Famous Players
Clarinet players from Stadler to Fröst
There are and were a lot of excellent and popular clarinet players and ensembles, and it is not simple to give you a list of the "best known" or "the best". You find a list of the ones that I found were/are important in their time.
Quite often the clarinet players influenced composers directly - this wasn't always just a professional relationship only, but often a friendship. It helped both: The musician needed new and popular pieces to play, and the composer benefited from finding out what a player could do with the instrument. Most composers then and today play the piano and maybe one other instrument, the more they know about the characteristics of the instruments, the better they can set music for them. You find a lot of such relationships between composer and player: Stamitz and Joseph Beer, Mozart and Stadler, Spohr and Hermstedt, Weber and Baermann, Brahms and Mühlfeld, as well as Benny Goodman who worked together with modern composers a lot.
Since the time I started to write this web page - late last century - media channels like Youtube have become very popular, and broadband access is affordable to most of you. This changes the way we can access and consume music and media. In result you can watch most of today's players in videoclips in famous concert halls right in your browser. It is technically possible to list links to these videos, but they may change frequently and some are simply illegal in some countries. You will easily find them by using the search option of youtube entering Stoltzman, Meyer or Neidich - and you will find hundreds of excellent concerto recording clips and videos, some in HD and HiFi.
The definite highlight is the series from Denmark Play with a Pro, where renowned instrumental teachers and professionals give masterclass-type lessons. This includes clarinets, too.
It is difficult to decide who should be listed here, and especially difficult to answer for an international web page, because the question whether a player is well known depends, too, very much on the country you live in. Since I am German and wrote the page for German-speaking readers at first (and later translated it) you still find lots of Germans here. If you lived in Turkey or in Botswana, your choices will probably be completely different from what people in Korea say.
Today I got another mail with a suggestions like "What about Anthony McGill?". Yes, I checked, and he *is* good, but then he is only very popular in one country, but not so much known in the 194 other countries of the world. So in order to be fair and help your favourite player become known world wide, I will not add any more players here. I rather suggest you go to the well maintained Wikipedia's clarinettists page, and check whether your player is there. If not, you can enter the data yourself. You can enter a short bio, and link to a local fan site if there is one.
However, do write if you think I made a mistake with one I have mentioned, though. Send me a mail but please check twice and explain why and I will correct the entry.
---
Anton Stadler
Anton Stadler (1753 - 1812) is of course so well known, because his playing inspired Wolfgang Amadeus Mozart to write his popular compositions. Without an extremely capable clarinet player one can hardly imagine the love of a composer like Mozart for the clarinet: At that time it was a crude, very imperfect instrument (and at the same time the string section played on stradivarius's - even today there is nothing better!). On the other hand the man Stadler was an infamous gambler and drinker, he fell nothing short to Mozart in spending money he didn't have: When Mozart died as poor man, Stadler still owed him money.
---
Johann Simon Hermstedt
Johann Simon Hermstedt (1778-1846) was the virtuoso with a technical talent. His tone was not as beautiful as Heinrich Baermann's (that is why Weber preferred Baermann and wrote for him), but Hermstedt was not only a player who could play nearly everything, but a gifted craftsman as well. The composer who wrote for him was Spohr. Spohr did not care for any problems the player might have with a piece which in return resulted in Hermstedt improving the mechanics of his instrument. This pushed forward the technical improvement of the clarinet a lot. Even today with advanced instruments you will find the four concertos for Hermstedt to be packed with tough challenges for the most experienced players.
---
Heinrich Baermann
Heinrich Baermann (1784 - 1847) started his musical career as oboe player in Potsdam. Then he learned to play the clarinet and went to Munich to King Ludwig's court, later to Vienna and London. He traveled all over Europe on concert tours. In Munich he met Carl Maria von Weber and, like Mozart wrote concertos for Stadler, Weber wrote for Baermann. The success was overwhelming. Weber wrote to a friend: "The whole orchestra went crazy and demands concertos from me. The are even writing to the King and the board of musical directors...".
---
Carl Baermann
Heinrich Baermann's son (1811 - 1885) Carl was a famous player, too, but today he may be even better known as professor for music and author of a clarinet book, that most of the German students still use today. He, too, has helped to improve the mechanics of the instrument.
---
Richard Mühlfeld
Richard Mühlfeld (1856 - 1907) started as violinist in the court orchestra in Meiningen, and taught himself to play the clarinet. His importance lies in his friendship with Johannes Brahms, who called him - due to his sweet tone - "miss clarinet". Brahms had already stopped composing, but Mühlfelds playing made him write his last works for Mühlfeld's clarinet.
The German letter "ü" is pronounced similar to the "y" in "physics". If you don't find it on your keyboard, you rather replace it by a "ue" than typing "u".
---
Jack Brymer


Jack Brymer was an English clarinet player, who has recorded a lot of important pieces together with great orchestras. He is maybe even better known to the musical world because he has written an excellent Book about the clarinet that was translated in many languages (if there is one book you should read as clarinet player, this is the one). He has intensively thought about many aspects of the instrument, the sound of the clarinet and different ideas about it in the world and he was a well known clarinet teacher.
The book will be found even in small local libraries. But because the book is one in a series published by Sir Yehudi Menuhin, you may find it in the library under "M" rather than under "B".
---
Karl Leister

Karl Leister was the German clarinet player that you will find the most German recordings of. He played with Karajan more than thirty years. His recordings are always perfect and adapted to the musical style required.
---
Dieter Klöcker

Dieter Klöcker is a German clarinet player with a lot of recordings. Especially if you are looking for pieces that are not top sellers, you may find recordings with him. Besides his playing career he is a Professor in Freiburg with a focus on jewish music. Many publications.
The German letter "ö" is pronounced similar to the "i" in "sir" or the "e" in "certain". If you don't have it on your keyboard, replace it by "oe" rather than "o".
---
Jost Michaels

Jost Michaels was an excellent player, but was even better known as Professor in Detmold, Germany, where he focussed on playing technique. On this subject he has published a (German) book Spieltechnik.
---
Richard Stoltzman

Richard Stoltzman is the most popular classical clarinet player in the United States of America today. He is playing with famous orchestras and recording CDs. On his homepage (www.richardstoltzman.com) you find samples of his music and links to YouTube videos, including performances with the children's tv programme Sesame Street. Around 2010 every Windows user had one of his recordings on the computer, because Microsoft used his version of Debussys "Maid with the flaxen hair" as example for the media player. Today it is available on Youtube: click here.
---
Harold Wright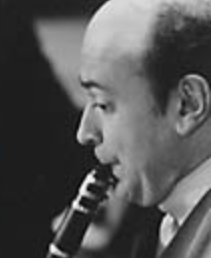 Our reader Mark told us that Harold Wright (1926 - 1993) was probably the best classical clarinet player in the United States of America ever. He was playing for BSO (Boston Symphonic Orchestra). Seiji Ozawa, former director of the BSO, said in the Boston Globe that not only was he the best player in the BSO, he was one of the top handful of greatest musicians of the 20th century, along side Heifetz, Horowitz, Casals, and so on. There are a number of his performances available on YouTube; His playing in the 3rd movement of the Weber Concerto - he plays slower than the principles of Vienna and Berlin (or Martin Fröst), but he plays flawlessly. He gives the movement more bounce - more like the dance it is supposed to be! He is in absolute control of the instrument, and thus able to play all those damn triplets at the end perfectly in control. Using a double embouchure, he incorporated German, French and American styles of playing into his sound. He was famous for continually struggling for perfection (which is also why he did so few solo performances).
---
Charles Neidich

Charles Neidich is a popular classical clarinet player in the United States of America. playing with famous orchestras and recording CDs. You can watch him and other clarinet players in the excellent series of videoclips from Denmark (in English Language) called Play with a Pro, each clip focuses on an important aspects of clarinet playing.
---
Sabine Meyer

Sabine Meyer (www.sabine-meyer.com) is a popular German solo clarinet player and frequently tours with excellent ensembles. She has recorded a large number of CDs. She also is a Professor for clarinet in Lübeck. She became known to the public when Karajan called her to the Berlin Philharmonics to be one of the first women in the Orchestra (especially in the clarinet section) which led to some irritations. Today she probably is Germany's most popular clarinet player.
---
Sharon Kam

If Sabine Meyer is not Germany's most popular clarinet player, then it is Sharon Kam: Sharon Kam (www.sharonkam.de) was born in Israel and won a scholarship of the Jewish-American Cultural Society at the age of 12. Since then she gives concerts with famous orchestras and collects media prizes. Living in Germany today she is a good example for the modern, flexible clarinet player who can adapt to the style required rather than playing all types of music in exactly the same manner.
---
Martin Fröst

Today the swedish clarinettist Martin Fröst (www.martinfrost.se) is definitely the most unconventional international wind players. On the one hand he is a gifted solo clarinet player, who frequently tours with excellent orchestras like the German Chamber Philharmonics Bremen, the Austrian Camerata Salzburg or the Hamburg Symphonics. But since there is a number of brilliant soloist out there, this would not be sufficient to establish yourself in this time. Fröst has therefore invested the price money he won in a competition into an unusual composition that combines modern music with dance and acting elements (you find the video at his home page). This makes performances by Fröst interesting for a wide audience, and that again translates into sold tickets which is an important factor for every orchestra that may engage him as a solo clarinettist.
The letter "ö", which you find in Swedish and German, is pronounced similar to the "i" in "sir" or the "e" in "certain".
---
Julian Bliss

Julian Bliss started playing the clarinet at age four using a Lyons C Clarinet. He earned his postgraduate Artist's Diploma from Indiana University (USA) at age 12 in 2001. However, he had to wait until he graduated from high school before he was awarded his diploma. He won the 2001 Concerto Soloists Young Artists competition in Philadelphia in 2002, and performed for Queen Elizabeth at her 80th Birthday Celebration. He has appeared as a soloist with the London Philharmonic, BBC Symphony and many other orchestras in the United States. He also follows a career as a chamber musician.
---
Non-Classical Players
---
Jazz: Benny Goodman

Benny (Benjamin David) Goodman was an American clarinet player who started as jazz musician (mainly in the swing area - he still is called "The King Of Swing"), who managed to establish this music in a serious environment (the famous concert in Carnegie Hall), and who toured with classical and even modern pieces as soloist, too. He made some recordings of classical works in Goodman style, that is, Mozart with a vibrato - real traditionalists don't like it... But then again there is no doubt that Goodman has pushed forward modern clarinet music by ordering works from many modern composers, like Bartok, Copland an Hindemith.
---
Klezmer: Giora Feidman

Giora Feidman has his roots in the jewish Klezmer tradition. He plays an important part in the renaissance of that style, especially when he appeared in some movies as jewish klezmer clarinet player.
---
Oriental: Hüsnü Senlendirici

Hüsnü Senlendirici is by far the most popular Turkish clarinet player. He is definitely not a classical player but a pop or folk musician, playing music in a traditional folk style but behaving like western rock stars (imagine a Freddy Mercury on stage with a clarinet and you see what I talk about). In the orient there seems to be less of clear border between folk musik and pop than western cultures have.
Female and male fans alike go crazy in his concerts, it appears to be there is nothing wrong to burst into tears when Hüsnü plays.
Turkish traditional clarinet players (much like other Greek, Oriental and Balkan players) use a G clarinet, which is a bit longer and sounds deeper and softer than the somewhat sharp Bb clarinet.
Stories to the point that he taught clarinet himself appear to be wrong, his family is one of well known musicians: Both grandfathers and his father played the clarinet. He studied Turkish Music in Istanbul, played in several bands and performed in hundreds of festivals worldwide. The Turkish TV channel TRT that is watched by millions of Turkish people all over Europe via cable or satellite and often broadcasts music shows, employed him to host one of these shows. There are many videos worth watching of him on YouTube.
---
Vasilios Saleas


Vasilios Saleas (Βασίλης Σαλέας) - is not only the name of the one most famous Greek clarinet player but there are two of them: Grandfather and grandson.
Grandpa Vasilios was born in a Roma family in Mesolonghi in Greece in 1928. He advanced his playing style and broke out of the traditional Greek folk music environment. He established the oriental clarinet ("à la Turka") in other musical fields as well. When Vasilios emigrated to New York City in the USA like many other Greeks he took his musical style with him. Playing mostly in Greek restaurants and night clubs (belly dance) he also recorded his music, some records are still available as CD. This resulted in an immense influence on the western world's idea of Greek clarinet playing, and it made him the best known oriental clarinet player of his time.
His sound set an extreme contrast to the classical sound that people in the west were used to, especially if you often heard players taught in German style, but it was also quite different from what you heard in a Dixieland or marching band.
Vasilis the grandson is known as New Age clarinet player, who already performed with Mikis Theodorakis and - most prominent - with Vangelis Papathanasiou in the early 1990s. Grown up in Athens, he learned playing the clarinet from his father and uncle and recorded his first own CD at the age of 14.
I find it quite notable that both Saleas' are equally admired in Greece as in Turkey. This may come as a surprise if you know how much in dispute Greece and Turkey are as states. Where it comes to music, however, they seem to live in harmony, perform together and show each other respect...
---
Other well known clarinet players (Links)